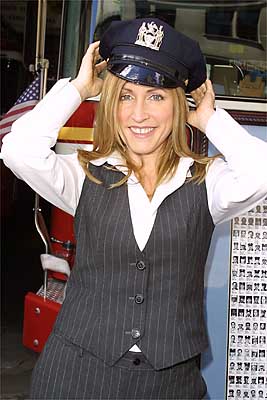 MACCA LEG RUB
POP legend Sir Paul McCartney likes to massage the stump of wife Heather Mills' amputated leg. He gets on his knees and gives her a rub when the limb is "purple and angry" at the end of a busy day. Vanity Fair mag, who interviewed the couple, say: "Her husband is ever eager to massage it for her, soothing the stresses and strains of the day." Heather lost her left leg just below the knee in a road accident.

True dat! Tee hee, anyone ever see the movie "Magnolia"? If so, respect the stump! Like, I am sooo witty. :) Anyhoo, that nub can get totally sore from all my daily activities. You would never believe what it's like to live a day in the life of Pegger Mills. After all that shopping, my poor nub is pooped! It all started one afternoon when I had just gotten back from Hugh Hefner's place, proceeding one 'hefty' shag (tee hee! a girl should always have a back-up billionaire in case the first one doesn't croak soon). I was zonked from all that screwing, so I asked Paul to massage my stump. Sir Fats-A-Lot seemed to think it was erotic and was rather enjoying himself, the pervo! Now, he has this crazy idea that rubbing my nub turns me on so he does it constantly. See what hell I go through being married to Paul?!? You just gotta keep reminding yourself: 10 billion dollars, ten billion dollars., ten billion dollars...like, that's my mantra these days! Once I sue his ass for divorce, it'll be shopping days for Peg permanently. I look foward to that day - it's like reaching Nirvana for me. Neato-vana. Tee hee! Whatever.
Heather Mills offered to sign a prenuptial agreement before marrying Paul McCartney but he turned her down, she has revealed. The former model says she was prepared to draw up an agreement which would protect the billionaire ex-Beatle's fortune if they split in order to show that her affection was genuine. "I wanted to prove that I love him for him," she says. "He said, 'I wouldn't let you.' " But she adds that she will always remain financially independent. "I believe every woman should have a reserve, because you never know what will happen in life. Guys can get bored, especially if they feel they've just got you there." Speaking to Vanity Fair magazine, she also talks candidly about home life with her new husband - revealing intimate secrets about the relationship with the man she calls her "soulmate". The new Lady McCartney - who wed Sir Paul, 59, at Castle Leslie Estate, in County Monaghan, Ireland in June - adds: "Our favourite thing is to stay home. I cook a meal and he dances around the room like Fred Astaire. "We're great for each other. I could eat him. I think when you find your soul mate, you could sleep under their armpits. I'm like a little dog. He says, 'You're always sniffing me!' I'm really happy. It's incredibly passionate. It's intense all the time, and we love each other's company." Just weeks before the wedding, newspapers in both the United States and Britain reported that she and Sir Paul engaged in a screaming match in their Florida hotel suite. According to a security guard, the argument became so heated that Sir Paul yelled: "I don't want to marry you. The wedding's off" as he threw her £15,000 ring out the window. Sir Paul reportedly had to call security guards at the Turnberry Isle Resort and Club in Miami to search the hotel garden for the ring. But when questioned about the incident, Lady McCartney simply said: "We were playing a game, having a joke, doing catch with the ring." Lady McCartney, 34, maintains that she gets on famously with Sir Paul's children, despite the reports of a fierce feud. She says: "We get on so well it's hilarious." She adds that Heather McCartney (Linda's daughter, whom Paul adopted) is very friendly. "We speak every day. We are so close she's like another sister."
I gotta hand it to you Peg, old girl, you are the QUEEN of Bullshit. Yay me! Oh, like we are sooo happy together..THOL! ("Tee Hee Out Loud"). The only kinda cooking I do can be summed up in two words: Easy Mac. And the only kind of dancing PAUL does? Five words: Old geezer dude break dancing. Who is Fred Astaire anyways? Was he like a break-dancer? Yeah, I thought so. And oh my G, y'all, Stella is SUCH a bitch! Mini-Heather too...sister, my ass! Oh sure, we call eachother everyday. Our conversations go kinda like this:
Neato Heather: Hello?
Stupid Heather: Go to hell, bitch!
Neato Heather: Oh yeah? You wanna piece of me? Say it to my face, bee-yotch!
Stupid Heather: Bloody tart!
Neato Heather: Poop face!
Stupid Heather: Gold-digging whore!
Neato Heather: What's your point?
Stupid Heather: My point?! Blooming hell, kiss my ass, Peg!
Neato Heather: Tell it to the stump cuz the face don't wanna listen!
Tee hee, like those tabloid dudes will believe *anything*! That's why the press keeps saying, 'Heather and Stella are best mates' and poo like that. For landmine sake, these bastards actually believed me when I told them Paul and I were playing catch with the ring and one of us missed and it came sailing out the window! That was such a cover-up story. In actuallity (<-- Neato! What a big word), Paul was being a total meanie head. He said he was having doubts about our relationship cuz we never communicate or some such crap that I never listen to him (I forget the rest, I wasn't paying attention). That is SO not true! I have to listen to him all the time, talk about how he dreamt up that song "Yesterday". *shudder* Anyhoo, he got all pissed and junk, so he chugged my ring out the window. I was SO totally p.o.ed! I remember saying to him, "If you don't find that ring, I will never have sex with you again!" Within the next ten minutes, the hotel had hired metal detectors to search the premises. Yeah, Paul sure does like his sex. But who could blame him? He gets it from the best!

McCartney Vs. Madonna in Castle Hassle
By BILL HOFFMANN
Get ready for the rock-'n'-roll brawl of the century - it's Madonna vs. McCartney.
The Material Mom is reported to be competing with the ex-Beatle to buy a $7 million Scottish castle. The pop queen and her director hubby, Guy Ritchie, are said to be planning a special viewing of Amhuinnsuidhe Castle, on the Isle of Harris. They have wanted to buy a home in the Scottish Highlands since their wedding at Skibo Castle in December 2000. But McCartney is also said to have expressed an interest in the property as a getaway for him and his bride-to-be, Heather Mills. As if the interest of Madonna and McCartney weren't enough, real-estate sources also say Sting and Mohammed al-Fayed, owner of Harrods, also have their eye on the prize. And to make matters more complicated, the residents of Harris also hope to take over the estate in a community buyout. The castle and 50,000 acres are being sold by hard cider millionaire Jonathan Bulmer, who once described it as "the loveliest place on earth." Madonna already owns a $9 million townhouse in London and a $12 million mansion and estate in Wiltshire, England.

Like, who the hell does this Madonna character think she is?! Um, what's more important? Her stupid home thingy for her husband and her to all live in and junk? Or a casual skank palace-shack for me and Paul to have a screw, watch TV, and leave (only to return years later just to check up on the poopy place)? Duh! The second one. I mean, you can find a home anywhere. But "get-aways"? Those are more difficult to come upon. Besides, Paul is royalty, right? Like, totally SIR Paul. And royalty deserves castles...and now that you mention it, I'm gonna marry that fat bastard so doesn't that make me a Queen or something? Neato! All hail Queen Peg! Tee hee! Oh, now I can't WAIT to get married. Weeee! But anywho, we deserve that castle-thingy more than stupid Madonna. Oh yeah, and that bee guy too. What was his name?...Sting? Whatever. He doesn't even have a last name so he shouldn't be allowed to buy that house. Besides, its practically a steal. Only 7 million dollars! Like, my totally rich boyfriend could make that money in one HOUR, whoring himself. Or so he tells me. Let me tell you, we fight ALL THE TIME about this, folks. The arguement: who makes the better whore? He's all, "Peg, you know I would be better because I'm hot stuff and women love me." And I go, "Na-ah! I have experience!" Boo-yeah! Top that, fat boy. He'll usually just mutter something under his breathe and then go eat something. Thats how many mornings at the McCartney house go...
Paul, Me, and that Mean Dude with the Big Nose...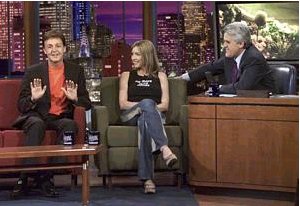 Like, here I am on some gay talk show! Paul was talking non-stop and I was sooo bored. Tee hee.
HEATHER FACES QUIZ ON £250K CHARITY APPEAL

SIR Paul McCartney's fiancee Heather Mills is being investigated over a £250,000 charity appeal. Charity Commission officials are probing the distribution of cash from The Lions Charitable Trust which she launched to help earthquake victims in India. Former model Heather, 34 - due to marry 59-year-old Sir Paul next month - launched the trust in April last year in a glossy celebrity magazine. The appeal promised to provide thousands of false limbs for people seriously wounded in an earthquake in the western Indian province of Gujarat in January 2001 which had left tens of thousands dead.
Heather - who lost her left leg in an accident involving a police motorcyclist in 1993 - has raised hundreds of thousands of pounds for landmine victims and was nominated for the Nobel Peace Prize in 1996.
In the earthquake appeal, which covered nine pages of the magazine, she said: "The more limbs we can buy, the more people we can make walk again. People in England can make a real difference by buying a leg.
"For just £20 they will be able to make a child walk again. Imagine that. If you do nothing else for charity for the rest of your life, what a worthwhile thing to do!"
Charity Commission officials began their investigation after it emerged in March that the trust is not registered as a charity - or as a company. The only address given for it is a Post Office box number in Southampton.
Last night a Charity Commission spokesman said: "I can confirm that The Lions Charitable Trust is not registered as a charity. We have been in contact with Heather Mills on several occasions over the past month.
"Following letters and telephone calls, we are seeking documentation to confirm that funds have been distributed as Heather has indicated."
Heather is now waiting for a report from India before replying to the Commission. Under the 1993 Charity Act anyone wishing to set up an appeal must register with the Commission.
The Act states: "A body is a charity if it is set up under the law of England and Wales and is established for exclusively charitable purposes.
"Generally, if an organisation is a charity, it must apply to the Commission for registration and the Commission must register it."
In 1995 Heather set up the Heather Mills Trust. But it was not until March 2000 that the trust was registered as a charity. The only set of accounts so far filed by the trust reveal that it received an income of £102,219, and spent a total of £69,602.
On her personal website - www.heathermills.org - Heather boasts that she began her charitable work in 1994, just a year after her accident.
The site says: "Heather instigated a nationwide appeal for the donation of unwanted prostheses, then employed the services of the inmates at Brixton prison to dismantle the limbs and make them ready for transport. In October 1994, just a year after her accident, the first convoy of artificial limbs left for Zagreb.
"Over 22,000 amputees and victims of landmine explosions have been helped.
"All the work Heather has done so far has been paid for out of her own pocket."
Indian charity Jaipur Foot yesterday confirmed it had received £25,000 from Heather for earthquake victims.
Last night a spokeswoman for Heather Mills said: "The Lions Charitable Trust is not Heather's charity. All she did was collect money for the trust and send it out to India. We sent all the money out there as it came in."
WHAT MACCA'S GIRL SAID:
"I''ve decided to launch an appeal when I get back to England. "The more limbs we can buy, the more people we can make walk again. "People in England can make a real difference by buying a leg. "For just £20 they will be able to make a child walk again. "Imagine that. If you do nothing else for charity for the rest of your life, what a worthwhile thing to do!"
CHARITY COMMISSION:
The Lions Charitable Trust is not registered as a charity. "We have been in contact with Heather Mills on several occasions regarding The Lions Charitable Trust over the past month. "Following these letters and telephone calls we are seeking documentation to confirm that funds have been distributed as Heather has indicated."

Alright, like which one of you little bastards squealed?! That's the last time I tell any of YOU a secret. Now, I have the FBO and some other pigs up my ass, trying to bust me (and its all YOUR fault)! Flamin' poo! This pisses Peggy-kins off! :( I'm too cute to go to jail! The mean lesbians will rape me. Rape is not nice. Imagine being stuck in a cage with four or five Stellas, greedily undressing you with their EYES. Yeah, THATS where I'm gonna be pretty soon if Geoff doesn't get me out of this mess. And Geoff better watch his back cuz he's in possession too, ya know. He's got morphine, ice, reefer, and glue! If the cops find him out, we're all screwed! Well, this whole charity buisness is not my fault, anyway. People send money to me, and I'm suppose to send it to some Indian folk, right? Well I did...but I only kept a little! Hey, after all my hard work (licking stamps, closing envelopes), I deserved a little pay! Where's the gratitiude?! This is exactly why charity-thingies totally suck ass. They put money RIGHT in front of you and then tell you to give it to someone else. Like, hello?! That's pure torture! Like those stinky earth-quake people need money anyway. Its not like they have any Macey's or Saks Fifth Avenues in Bangladesh-land. So whats the point of having money? This whole me-stealing-charity-money fiasco BETTER blow over pretty damn soon! Cause if it doesn't, I'm gonna be one pissed off little Peg. And when Peg gets pissed, EVERYBODY SUFFERS!!!
McCartney Says His Kids Are Unhappy About Wedding
LONDON (Reuters) - Former Beatle Paul McCartney admitted Sunday his children were finding it difficult to accept his forthcoming marriage to fiancee Heather Mills, but said they had to realize "it's how it is and how it must be."
The 59-year old star, who has said he "cried for a year" after his wife Linda died of breast cancer in 1998, is due to marry former model Mills, 33, on June 6 in a star-studded ceremony in New York. But his children are still struggling with the idea. "They find it difficult to think of me with another woman," he told Britain's Sunday Telegraph magazine in an interview.
"I think a second marriage is hard for the children," he said. "But it's how it is and how it must be, and I think that more than anything they want me to be happy -- and this is what makes me happy."
McCartney -- who will turn 60 next month -- has three children from his marriage to Linda as well as a daughter from Linda's previous marriage.
He is currently on tour in the United States -- his first American concert tour in almost 10 years.
Those retarded midgets! Can you believe those self-centered, materialistic little brats? All they care about is money, money, money. What about ME? What about MY needs? Peg needs money too! I think the whole reason Paul's stupid kids are mad is cause they won't inherit as much with ME in the picture. Serves 'em right! Peg always comes first. But let them be pissed because look who gets the last laugh? Muahahaha. Tee-hee-hee-hee-hee-hee-hee! Yeah, you might also have picked on to a little phrase in that article. "Star-studded ceremony". Like, yAy! I hope so. Ya see, before, Paul wanted this private "romantic" wedding where we could be alone and no one would get to see my personally designed wedding gown. Not neato! So I begged him...pleaded him to let us have a celebrity-packed, publicity filled marriage and you know Paul. It doesn't take much convincing when your asking for publicity. So he agreed and if he comes through with his promise, I'll get to meet lots of stars. Oooh, I hope Brad Pitt comes! He is *so* dreamy. I would totally do it with him! Maybe we could sneak in the bathroom or something, during the reception. Oooooh and that Tom Cruise-dude is hot too! More sex for Peg! Yippee! :) Well, I have some wedding gown designing to do. Later, dudes!
Radio Station Pulls Trailer Making Fun Of Heather Mills
A radio station has scrapped a trailer making fun of Paul McCartney's fiancee Heather Mills.
Presenter Terry Christian has been accused of offending people with disabilities in the plug for his Century FM show.
Miss Mills had her leg amputated after being involved in a road accident.
Amputee Sam Gallop, trustee and former chairman of the Limbless Association, told the Manchester Evening News: "Would anyone make a joke about a two-year-old child who has just had an amputation? You certainly should not make a living out of it. "We are in the business of helping people, not making jokes about them. My feet were burned off. I don't find it funny." Stephanie Barker, of Century FM, said: "We've listened to the tape and can comment that while Terry would never knowingly cause offence to anyone, he has a very tongue-in-cheek manner and on this occasion, it appears that this comment has caused offence.
"We, of course, take all complaints extremely seriously and as a result, this promotional trail has now been removed."

Tee hee, the "Limbless Association"! Hey! Wait a minute, that guy was totally making fun of me. How, not nice! He will pay for this...literally, I'll go steal some of his stuff. No one makes a fool out of Peg Mills McCartney! NO ONE! Besides, I am like all legless and junk so you have to treat me special. That's the rule (duh!). Anyone who has any form of disability is automatically special and deserves lots of special privleges...and money. Tee hee! Speaking of discrimination, I was totally prejudisized yesterday! Okay, it was the last day of the Neiman Marcus sale and I was in a hurry. I pulled into the parking lot and couldn't find a single space left. From the corner of my eye, I spotted an old granny chick in a wheel chair when it hit me. The handicap zone! Hey, I'm missing a leg! That's a handicap, right?! Whatever. So I sped in front of the old bitty and into the empty spot in the very front. She was all pissed and junk cuz I got in her way so she yelled out some mean stuff to me. But who cares what OLD people have to say? They're like, old. Anywho, I totally showed her! I pushed her wheelchair over! Tee hee. Just cause she has a disability doesn't mean she gets special privleges! So back to my story. I shopped for a couple of hours and bought some neato stuff. By the time I headed back to my car, I was exhausted only to find a little piece of paper tucked into the windshield wiper. I read the note and whaddoya know, I won the lottery! Coolio! It said they owed me $250 which is kinda cheap but whatever. Money is money. I went to the police department to redeem my money when the cop-person said I owed THEM $250. Apparently, it's illegal to park in a handicap zone!!! Who knew?!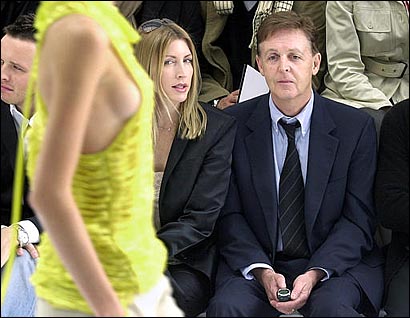 Macca Admires Daughter's Fashion Creations
Sir Paul McCartney and his fiancee Heather Mills have been in Paris for his daughter's latest fashion show. Stella McCartney was showing off her designs at the autumn and winter ready-to-wear collections.
Jean-Paul Gaultier was among the other designers presenting their latest creations at the show.
Talk about gay. Why does Paul feel the need to drag me along to all his many outings? He says, "Heather dearest, I want you to bond with my children. You're going to be their new mother, you know." Bond? With those spoiled brats? All they think about is money, money, money. Like, how totally materialistic! They need to set their values straight. They should focus their time on more important things like shopping and pet rocks. Oh, and emus. Emus are neato. But yeah, I was stuck having to watch that 3 hour show of pure stupid clothing. Like, oh my gosh, all Stella's "creations" focus on boobies, boobies, and more boobies. What's the deal with that? Shouldn't some of her ideas draw attention to other things, like for example, prosthetic legs? Now THAT would be something worth looking at.
-Tabloids-
Heather Mills received 10 yards of the finest Chantilly lace at Paul's office in New York last week. Stella McCartney will not be designing Heather's wedding dress. Paul's fiancee is designing her own wedding gown. The very expensive lace was ordered from Solstiss Bucol in France, one of the top lace suppliers. The wedding is rumored to be in March but is more likely to be in early July.

Tee hee! Yeah, I was sketching in my notebook when I realized how much of a coolio artist-person, I am! I mean, my sketches were GOOD! So an idea hit me (Neato, an idea!). I shall venture forth and create my OWN wedding gown. I decided I would buy the richest material-fabric-crap to sew my creation (spending Paul's money of corse). I'm not sure how to sew, what measurements I am, how to thread a needle, or how to make a dress, but I'll figure it out! If Paul's butch daughter can do it, so can I! How hard could it be? Yeah, and I'm gonna be SOOOO pretty. Tee hee!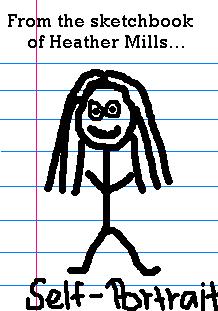 Unknown Source
-Tabloids-
"I'm no gold digger," says Heather Mills. Sir Paul McCartney's fiancee Heather Mills has denied she is a gold digger. She told Radio 4 that his fortune would only have been appealing if he was much richer. The 33-year-old former model rejected suggestions made about her intentions towards the ex-Beatle who is worth an estimated 700 million.

She told Michael Buerk on Radio 4's The Choice: "He knows and I know why I'm with him. If I was going to go out with anybody for their money, it would be with someone a lot richer."

Challenged that few people were wealthier than Sir Paul, she said: "There are a lot of people, believe me," adding: "There are more reasons not to be with him, but he's just a great guy."

Like, that is soooo true! I could score a whole lot RICHER than fat Paul but like I said in my interview, he and I BOTH know why we're a couple. Because money is neato. Oh, and I love him. But mostly cuz money is neato. There are like a bunch of reasons not to be with him. Okay, like firstly, he is a veggie freak. Yeah, I tell everyone I went veggie but thats just gay. Why stop eating meat when you can eat meat? Duh! What a weirdo. Secondly, he's got these drugs and junk and they hurt my feelings. Not really, but they make him stupid. He's always getting high and I just can't take him ANYWHERE when he's in such a state. i.e. No shopping for me! APPARENTLY, its illegal to forge his signature when I steal his credit cards. Don't ask me!
KOCHI, JANUARY 14: THE singer of the chart-topper Driving Rain is holidaying in monsoon country. For the past one week, away from the glare of cameras, ex-Beatle Sir Paul McCartney has been serenading Keralas backwaters with his girlfriend, Heather Mills.

Paul McCartney and Heather Mills
McCartney and Mills, a former model, flew in his private jet into the Cochin International Airport at Nedumbassery last week. There are also reports that former Bond Sean Connery has been taking a break in Kerala for the past five-six days.

On Saturday evening, the couple celebrated Heathers birthday at Coconut Lagoon at Kumarakom. They celebrated the day on a houseboat sprinkled with flowers, said sources. At night, they sailed away on the backwaters of the Vembanad Lake.

McCartney, a strident vegetarian and animal rights activist, has also been sampling the states traditional ayurveda, a major tourist draw. "He is a yoga expert. He enjoyed every bit of ayurveda and yoga," sources said. McCartney and Mills have been on salads and a traditional Kerala vegetarian menu.

Before arriving at Kumarakom, McCartney also spent time with his partner at Marari Beach, Alappuzha and Spice Village in Thekkady.

"They spent a night on a houseboat. He is thrilled about the visit," sources said. Kerala can only hope that McCartney will, some day, sing like he did in his latest number Driving Rain: "Let's go there back again, baby, baby."


Yeah, that trip was soooooo gay. I mean, I think islands are stupid. They have all this tropical junk, like fruit and grass skirts but they don't even have a Bloomingdales! I mean, whats THAT all about? Ya see, in Paul's twisted little head, he thought it would be ROMANTIC to visit a get-away island in the middle of like, wherever those island thingies are. Canada, I think. But yeah, so he says he's gonna surprise me for my birthday and take me to a tropical paradise. So the first thing that struck my head was, "Oh, we're gonna go to New York again!" I mean, Manhattan is an island, right? Anywho, we arrive in that crappy piece'a poo island and Paul leads me to this boat, only, its like a house ("Hence the name 'house-boat" as Paul says). We get there and it has all these flowers everywhere, and I'm all like, "Someone REALLY needs to broom this piece of junk!" Then Paul says, "Heather dearest, its romantic. It's suppose to set the mood." Yeah right, shrubs make me SO horny. Yet another example of Paul pretending I'm Linda. Back to my story, we were set for a romantic candle-lit dinner and I was all excited. The waiter dude serves us these plates and I eagery look at mine. And whats on it, you ask? A shrub! A freaking shrub! Some island salad thingie. I asked the waiter, "Do y'all have any steak?" But he didn't understand me (I think he only speaks Canadian). Well as if the night couldn't get any worse, I opened Paul's presents and oh BROTHER! Dirty magazines, dirty magazines, and MORE dirty magazines. He must have thought it was funny or something. He also bought me this pearl necklace he got on the island. I told him, "Paul, already have one of these!" And he said, "Yes Heather but you got that from a box of Cracker Jacks. This one is real." That made me mad! How dare he insult my CJ pearls! They were real! I mean, what would be the point of putting FAKE pearls in a box of candy corn? Like, DUH, who would buy it? Not me! Hmmm, what else did Paul buy me? Oh, he bought me the Beatles Anthology movies to improve my knowledge of his old band thingie. I think the Beatles are neato. I love that one song called "I'm a Believer". Tee hee! That one is like, groovy (I learned that word from the Brady Bunch). So anywho, that was my birthday. Next year, I am SO making him a list.
2-01-02
Heather Mills appreared at Macys/NYC today . As the
new spokeswoman for INC clothing, Heather also
discussed her Adopt-A-Minfield cause. A percentage of
all purchases of INC clothing from Macys during the
month of February will be donated to this cause.
Heather looked absoluvely beautiful and was very warm
with all of us who wanted to talk to her and get her
autograph. It was a pleasure meeting her!
Also, earlier this week, gossip columnists Rush and
Molloy reported that Mills has broken with fellow
human-rights activists on U.S. treatment of Taliban
and al-Qaida terror suspects held in Cuba. ""They're
terrorists,'' she was quoted by the columnists at the
party that Vogue and the I.N.C fashion company threw
for her before she headed to the Amnesty International
Media Spotlight Awards. ""So, if it means that they
don't have five meals a day when their country's only
getting one meal a week, then it's really not the end
of the world.'' Mills conceded that footage she's seen
of the hooded men in Guantanamo was ""quite dramatic.
And I've worked in many war-torn countries.'' However,
she said, "I don't think the treatment's really bad.
They're not heavily bruised and beaten up, and I think
we need to worry more about the innocent civilians out
there than about what's going on'' with the prisoners.
When asked, Paul declined to comment about the
prisoners, preferring to praise Amnesty International.


Another lesson learned: being a spokesperson really gets you attention! That coolio store, Macys said that if I represented them, I could get all these discount thingies so I was more than happy to ablige. Then, Geoff told me I ought to start my rant of how land mines aren't cool and you shouldn't smoke land mines. I think I really got through to the people! They were all staring and pointing at me, but then again, I am a publicity goddess. After my speech, a bunch of weirdos were asking for my autograph so I was all like, "I know I'm famous!" and signed each one of them an autograph reading, "Dear Whoever You are, stay in school and don't smoke sex and have drugs. Cheers! - Peg". Wow, how generous of me to write so much! Then, people started asking me about this political junk - BORING! I stated my opinion on how I thought third world countries were gay, but Geoff ended up editting my every word! As if I weren't well spoken!